Quebec-based Moonday is aiming to add to the sense of 'ahhh' with its uniquely scented lineup.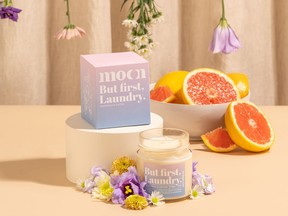 Reviews and recommendations are unbiased and products are independently selected. Postmedia may earn an affiliate commission from purchases made through links on this page.
Article content
We can likely all agree that life seems more stressful lately. A recent survey from Bromwich + Smith found that Canadians are 48 per cent more are feeling more stressed this year than even in the first lockdowns of 2020 due to concerns about the pandemic, cost of living and debt.
Article content
In an attempt to lighten the mood, many are turning to acts of self-care — think: skincare rituals, meditation and burning candles. Quebec-based Moonday is aiming to add to the sense of "ahhh" with its uniquely scented lineup.
We caught up with founder Iseult Savard Lévesque to learn more.
Q. For those who aren't familiar, what is Moonday?
A. Moonday is a Montreal-based company that specializes in the manufacturing of all-natural soy-wax candles. Moonday candles act as a reminder to take some time to take care of yourself. We offer a range of over 15 different fragrances all made from 100-per-cent vegan and natural ingredients, scented with essential oils and phthalate-free fragrances. Although our main products are candles, we now offer DIY kits that allow you to create your own candles in the comfort of your own home! The perfect activity to do with friends/family.
Article content
Q. Is there a story behind the name?
A. We were looking for a word as sweet as our products. Moonday has the word "Monday" in it, which is typically a busy, stressful day that people dread. We wanted to use that as a little reminder to "take a breath" or tend to your self-care needs even on a Monday rush. We all need to take a break whether it's am (day) or pm (moon).
Q. What makes the brand unique?
A. Our mission is to create products that are as beautiful as they are aromatic. Rare are the trendy products that are created with respect to the environment and our values. We believe that our brand values ​​and messages conveyed set us apart. We are very detail-oriented and every candle is handmade by a small dedicated team.
Q. What can you share about how you come up with the unique scents for the candles?
Article content
A. We do batch tests with the team to find the best fragrance combinations. This is honestly the best and most time-consuming part of our job as the possibilities are endless. We try to create scents that will prompt a memory, a place or an emotion for our customers.
Q. Is there a 'hero' candle in the lineup? If so, which one and what makes it so popular?
A. Without hesitation I think of our Good Morning! candle. it is the candle that made us famous. Probably due to its very unique look and Froot Loops smell that takes us right back to childhood.
Q. What is the price range for your candles?
A. Our classic-size candles are all $25 plus tax. Our DIY kits are between $32 and $42 plus taxes.
Q. And lastly, where can people check them out?
A. We are happy to have more than 50 points of sales across Quebec. We are looking to expand our horizons to the rest of Canada, as well. Our website is the best place to find out about our new products and promotions, moonday.ca.
Aharris@postmedia.com