As part of its macOS 13 Ventura presentation at WWDC 2022, Apple today announced Continuity Camera, which gives Mac owners the ability to use their iPhone as a webcam.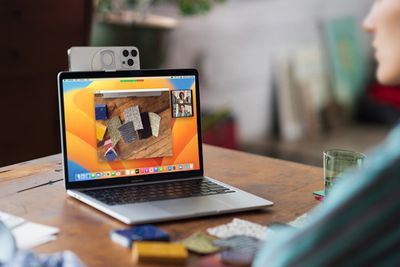 A Mac running macOS 13 can automatically recognize and use the camera on an ‌iPhone‌ when it is nearby, without the need to wake or select it, and the ‌iPhone‌ can also connect to the Mac wirelessly.
Continuity Camera includes FaceTime features like Center Stage, Portrait mode, and a new Studio Light effect that illuminates a user's face while dimming the background.
In addition, Continuity Camera uses the Ultra Wide camera on an ‌iPhone‌ to enable Desk View, which simultaneously shows the user's face and an overhead view of their desk, which is useful for creating DIY videos, showing off sketches over ‌FaceTime‌, and more.
Continuity Camera is available on ‌iPhone‌ XR or later models. Using Continuity Camera wirelessly requires a Mac and an ‌iPhone‌ or iPad with Wi-Fi and Bluetooth turned on, and both devices must be signed in to the same Apple ID with two-factor authentication.
Continuity Camera with Center Stage and Desk View is available on iPhone 11 or later running iOS 16. Studio Light is available on iPhone 12 or later running ‌iOS 16‌.
For all the other details and new features in macOS 13 Ventura, see our dedicated article.
Related Stories
Apple Introduces macOS Ventura: First Look at New Features
Apple today announced the next version of macOS, called macOS Ventura, with several new features, including Stage Manager, Continuity Camera, new security updates, and more. Stage Manager helps you focus on the app you're using without any distractions by arranging all unused apps on the side, with the main and active app in the middle. Continuity Camera gives macOS users the ability to…
Clock and Weather Come to the Mac With macOS Ventura
With macOS Ventura, Apple is bringing a native Weather app to the Mac, alongside a new Clock app that lets users set timers, see world clocks, set alarms, and more. macOS Ventura adds several features to the Mac, including a new way to manage multiple windows with Stage Manager, the ability to use your iPhone as a FaceTime camera, a redesigned experience for System Preferences, now called…
Apple Studio Display Runs Full Version of iOS 15.4
The Apple Studio Display runs a full version of iOS 15.4, Daring Fireball's John Gruber has highlighted. In System Information, under "Graphics/Displays," the Studio Display's software can be seen, showing that it runs "Version 15.4 (Build 19E241)." This is the exact same build number as iOS 15.4 and iPadOS 15.4, indicating that the Studio Display runs the full version of iOS. The Studio…
'High-End' iPhone 14 Front-Facing Camera to Cost Apple Three Times More
The iPhone 14 will feature a more expensive "high-end" front-facing camera with autofocus, partly made in South Korea for the first time, ET News reports. Apple reportedly ousted a Chinese candidate to choose LG Innotek, a South Korean company, to supply the iPhone 14's front-facing camera alongside Japan's Sharp. The company is said to have originally planned to switch to LG for the iPhone…
iOS 16 Brings New iPhone 13 Camera Features for Portraits and Cinematic Mode
For iPhone 13, iPhone 13 mini, iPhone 13 Pro, and iPhone 13 Pro Max users, iOS 16 adds new Camera app functionality. On its iOS 16 website, Apple says that there are two new iPhone 13-exclusive features for Portrait images and Cinematic mode. When using Portrait mode, iOS 16 lets you blur objects that are in the foreground of a photo for a more realistic depth-of-field effect, rather than…
macOS 13: What We Know So Far
The Worldwide Developers Conference (WWDC), Apple's annual developer and software-oriented conference, is now a week away. We've heard very little about macOS 13 ahead of its announcement this year, so we could be in for some major surprises when June 6 rolls around. Here's what we know so far about the next version of Apple's Mac operating system. macOS 13 Name? Every year heading into…
iPhone 14 Cases Offer Best Preview Yet or Relative Camera Bump Sizes
An image showing a series of third-party cases for the upcoming iPhone 14 lineup has turned up on Weibo, providing a stark reminder of just how large the camera housing on Apple's flagship smartphones is about to become. After seeing lackluster sales of the iPhone 13 mini, Apple this year is set to focus on larger iPhone sizes, and we're expecting to see a 6.1-inch iPhone 14, a 6.1-inch…
All iPhone 14 Models to Gain Two Front-Facing Camera Upgrades
The iPhone 14 lineup will feature upgraded front-facing camera setups with at least two improvements, including autofocus and a wider aperture, according to insightful Apple analyst Ming-Chi Kuo. Kuo recently said that all four of the iPhone 14 models, including the iPhone 14, iPhone 14 Max, iPhone 14 Pro, and iPhone 14 Pro Max, will feature an upgraded front-facing camera with autofocus and …
Popular Stories
WWDC 2022 Apple Event Live Keynote Coverage: iOS 16, macOS 13, MacBook Air, and More
Apple's Worldwide Developers Conference (WWDC) starts today with the traditional keynote kicking things off at 10:00 am Pacific Time. We're expecting to see a number of announcements, including iOS 16, macOS 13, watchOS 9, and tvOS 16, though it's unclear what else we'll be seeing at the event. A redesigned MacBook Air tops the list of potential new hardware, but supply chain issues…
Apple Announces Redesigned MacBook Air With M2 Chip, Notch, MagSafe, New Colors, and More
Apple today at WWDC 2022 announced the next-generation MacBook Air with the all-new M2 chip, a redesigned unibody enclosure, a brighter display with a notch, new color options like Starlight and Midnight, MagSafe charging, a 1080p camera, and more. The new MacBook Air looks similar to the latest 14-inch and 16-inch MacBook Pro models. The notebook features a slightly larger 13.6-inch display …
Apple Announces iOS 16: First Look at New Features
Apple today previewed iOS 16, the company's next major update for the iPhone, featuring a redesigned, customizable Lock Screen, improvements to Messages, Maps, and Home, new sharing and personalization capabilities, and more. Lock Screen, Notifications, and Focus An all-new, fully customizable Lock Screen allows users to edit a large number of design elements, including type styles and…
Top Stories: WWDC 2022 Rumors + iPhone 14 Pro With Always-On Display?
It's that time of year again as the calendar flips over to June! Apple's developer conference kicks off on Monday and we've seen a flurry of last-minute rumors even as much of what to expect remains a mystery. This week saw rumors about some of the changes coming in iOS 16 and iPadOS 16, while we also heard details about the iPhone 14 lineup we're not expecting to see until the usual…
Apple Announces Updated 13-inch MacBook Pro With New M2 Chip
Apple today unveiled an updated 13-inch MacBook Pro featuring Apple's next-generation custom M2 chip. The new 13-inch MacBook Pro is essentially a processor bump, with the design and other hardware features identical to the previous model. Built using second-generation 5-nanometer technology, Apple's M2 chip improves upon the M1 in every respect, with a 18 percent faster CPU, a 35…
Apple Announces Multi-Display CarPlay With Integrated Speedometer, Climate Controls, and More
Apple today at WWDC 2022 announced the "next generation" of CarPlay, which will support multiple displays within a vehicle, offer built-in climate controls for adjusting the temperature of the A/C or heat within the CarPlay interface, and more. The next-generation CarPlay experience will be able to provide content across multiple screens within a vehicle, and deeper integration with a…
†