Incentivizing the use of e-cigarettes would dramatically reduce smoking rates, but Health Canada is doing its utmost to make them less attractive to smokers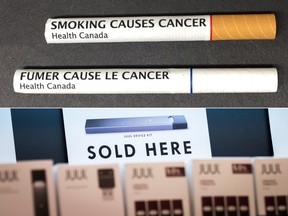 Article content
great news! Health Canada has a fantastic new idea to reduce tobacco smoking! I know what you're probably thinking: at last, the department has come to its senses.
Article content
Last year, while you might have imagined all Health Canada hands being applied to the COVID-19 tiller, the federal government imposed a low limit on the amount of nicotine permitted in the vaping devices, which have enabled many people to quit smoking. It also wrote rules that would outlaw vape flavors other than tobacco and menthol, although for the moment these are still part of a "forward regulatory plan" hanging over the heads of retailers. (Three provinces have already banned all vape flavors.)
The effect of all this is — quite explicitly — to make vaping products a less attractive alternative to smoking, which is far more dangerous to health according to the department's own assumptions. Those of us who are already addicted to cigarettes could only regard these measures as frank abandonment. The vape devices that are now legal are not in any way a serious substitute for habitual smoking; they're designed to prevent nicotine addiction among underage users and to actively discourage uptake of vaping by making the experience less pleasant.
Article content
An approach grounded in harm-reduction philosophy would not only have made high-nicotine mango-flavoured vapes available to adults in the market, it would be shipping devices and liquid to the homes of smokers at a subsidized price. Instead, you might still be left sucking down a pack a day at an annual cost of $6,000 or $7,000.
Unfortunately, Health Canada's latest brainstorm isn't anything like this. Instead of acknowledging that its attitude toward addicts is "Hurry up and die broke," the department is confessing the long-term failure of the graphic health warnings it added to cigarette packaging in the year 2000. Although the program had initial success, mostly measured by asking tobacco users if they had seen the warnings and gone "ewww," its observed effects leveled off over time.
Article content
Canada's smoking rates have declined somewhat impressively by international standards, but Canada wasn't any kind of outlier despite its aggressive approach to packaging rules, either. (How we'll do in the vaping era against other countries that take harm reduction seriously remains to be seen.)
Vexed by the "washout" of existing warnings, Health Canada, like a man with a hammer looking for a nail, asked itself: where else besides billboard and bus shelters and cigarette packages can we print health warnings? The answer was obvious: print them on individual cigarettes.
On Friday, the department announced that it will be holding a 75-day public consultation period on proposed new packaging regulations that include labeled smokes. "This new packaging would help to ensure that health-related messages reach people who often access cigarettes one at a time in social situations, particularly youth and young adults," the press release promised.
Article content
It added (illiterately), "If implemented, Canada would be the first country in the world to introduce such a requirement," which was enough of a hint to earn a little pyrotechnic outburst of international headlines. This is probably enough to ensure that the measure will go ahead no matter what the consultations suggest.
As a smoker, I don't especially care what the government requires our tobacco companies to print on the surface of my cigarettes, because I don't typically stop to study a cigarette before I set it on fire and inhale it. (Hell, I still sometimes accidentally set fire to the filter end.)
I admit it might be nice if some of the smokable texts read, "Thank you for contributing enormous net amounts to the public treasury." The spirit of frankness might be embraced by having some of the cigarettes say, "There is awkwardly wide-ranging evidence that this product might help prevent COVID-19, although it's still otherwise bad for you." On just a few of the coffin nails, the government might require manufacturers to admit that, "Declining smoking prevalence is probably one of the reasons we have increasing obesity."
Article content
But that's just me being bitterly cheeky. I'm skeptical of the pretext given for printing warning labels directly on cigarettes, but I was skeptical of the po-faced warnings on exterior cigarette packages, and you cannot show those didn't save some lives at the time of their initial introduction.
What I'd really like is an alternative, less risky method of using nicotine without having to smoke. I lived long enough to see one invented and widely adopted, and then lived long enough to see it essentially regulated out of existence. I wouldn't have believed it could happen, but it did. So maybe what they ought to print on cigarettes is simply this: "Welcome back."
National Post
Twitter.com/colbycosh
Geoff Russ: Nova Scotia's disastrous e-cigarette flavor ban should be a warning to the federal government

Geoff Russ: Vaping regulations are all about protecting tobacco tax revenues